Let me introduce you to the wondrous wool, meat and (hopefully) milk producing sheep of Beauty Farm. I am hoping that the girls will allow us to collect milk from them to help us to raise a couple of orphan lambs, in addition to the lambs they will be raising. I have been informed that sheep produce colostrum for the 24 hours following the birth of their lambs. If you milk this colostrum you can freeze it to feed orphans.

Let us start with our hand raised orphans from Spring 2009. We had 5 lambs, 2 ewes and 3 weathers. All the boys were called Bruce, although they all collected names from discerning features. They are all destined for the freezer. The girls, however, are a different story. Haidee and Heidi, originally known as pee-bum and poo-bum as these are the bodily functions they performed in the car, are the beginning of our breeding stock.

First we have little Bruce, he was very sickly and took some extra care, but we managed to nurse him through.
Next we have the girls Heidi and Haidee, with LJ. Plus a close up of baby Heidi's cute little nose.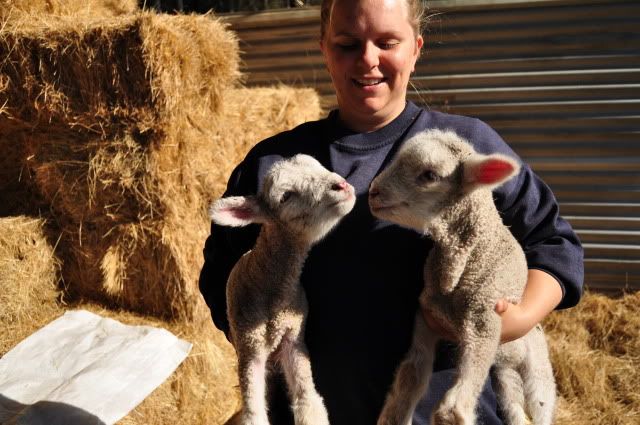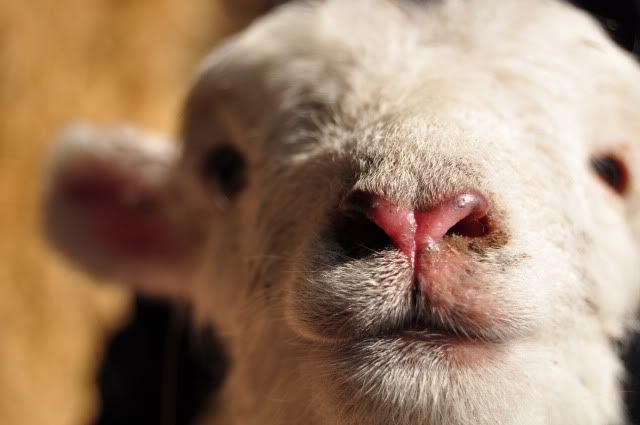 In the process of yarding lambs for a friend ready for slaughter we arranged to swap a Bruce for one of their Ewes, now known as Heedee. Heedee was flock raised so has little understanding of what people are, although we have noticed that she is becoming more curious and accepting of people.
Last, but definitely not least, the piece de la resistance, Horrace. Lambed Spring 2008, a Wiltipoll Flock Ram. Wiltipoll do not produce wool, but we are hoping to have enough orphan lambs come through to supply us with the first cut of lambs wool, along with the fleeces from our 3 ewes.